Polyhedral Hollow Ball
1) Material: PE, PP, PVC, PVDF, CPVC...etc 2) High void ratio, low pressure drop, low mass-transfer unit height, high flooding point, uniform gas-liquid contact, small specific gravity, high efficiency of mass transfer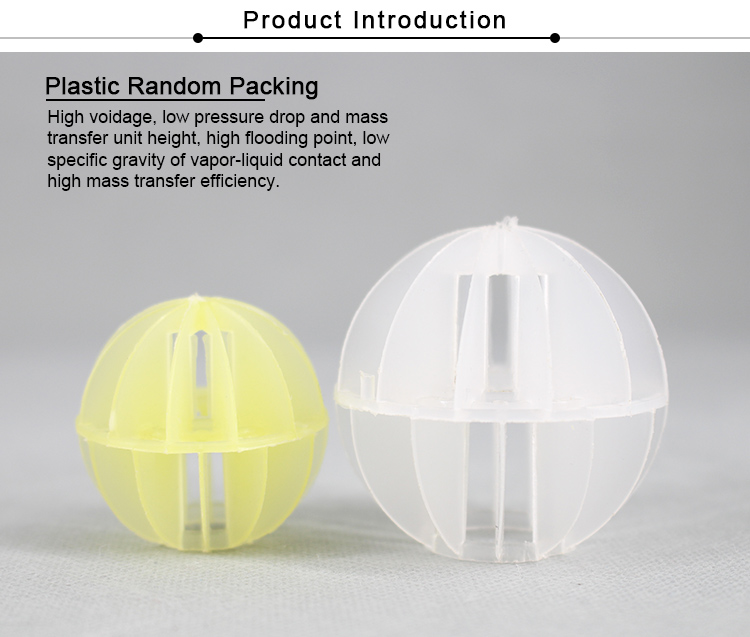 Polyhedral Hollow Ball is a synthesis of two hemispheres to a spherical shape, each hemisphere is composed of several half fan-shaped blades, the fan-shaped blades of the two hemispheres are staggered from each other. The advantage of this filler is larger specific surface area, so it is more used for washing tower, water treatment and CO2 equipment.
Specific Application:
Widely used in petroleum and chemical industries, alkali chloride industries, gas industries and environmental protection industries with max.

Features:
High void ratio, low pressure drop, low mass-transfer unit height, high flooding point, uniform gas-liquid contact, small specific gravity, high efficiency of mass transfer

Model
Polyhedral Hollow Ball
Material
PP,RPP,PE,PVC,CPVC,PVDF, etc.
Diameter
Number per m³
Bulk density
Surface area
Free volume
(mm)
PCS
(kg/m³)
(m²/m³)
(%)
Ø25
64000
145
460
84
Ø38
25000
125
325
87
Ø50
11500
105
236
90
Ø76
3000
90
150
92
Typical Application
Absorption, scrubbing, and stripping services