XINTAO Liquid surface covering ball with edge is made of polypropylene as a raw material, and is a circular plastic filler formed by foaming and shrinking. It has a stable center of gravity, side-to-side overlap, and good coverage. The edged liquid surface covering ball can inhibit the volatilization of acid mist, protect the health of operators, reduce air pollution and air pollution to water quality, effectively improve the quality of condensed water, and facilitate the safe operation of the generator set.Edged liquid surface covering balls are widely used as sealing materials for various horizontal acid storage tanks, concentrated hydrochloric acd in power systems and condensate tanks.
Model
Plastic Liquid Surface Solid Covering Ball
Material
PP, RPP, PE, PVC, CPVC, PVDF, etc.

Dia

(mm)

Operating Temp.

( ºC)

Compressive strength

(Mpa)

Number

(n/m3)

Void Volume

%

Covering Rate

%

25
≤120
≤0.4
1560
9.5
98
40
≤120
≤0.4
666
9.3
97
80
≤120
≤0.36
232
9.5
99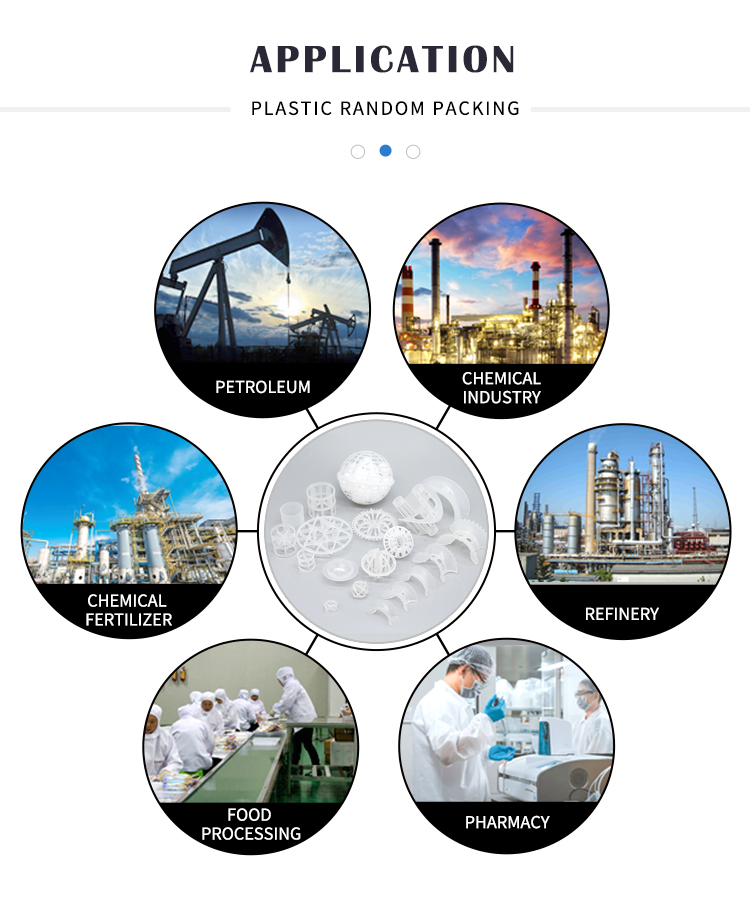 The float ball is mainly used for covering the upper surface covers over the role,such as: storage tank for the acid-base, you can prevent the acid-base gas spills, evaporation, reducing the external acid-base gas, environmental pollution, and conservation role of acid-base materials; for desalting water, so that air and water separation can reduce the air of CO2, O2 and dust and other impurities of the desalted water pollution and ensure water quality. Applied to all kinds of horizontal storage tanks, water treatment in the condensate storage tanks, desalination water tanks, large degree of reduction of acid mist in the air of carbon dioxide and oxygen to the water pollution, to protect water quality, energy conservation, clean environment effect.
Advantage:
The design is exquisite and reasonable, and the appearance is beautiful. Proper selection of materials, acid and pressure
resistance (pressure resistance 0.4MPa, acid resistance 35% concentrated hydrochloric acd, working temperature ≤ 100 ºC
•Accurate specific gravity and stable center of gravity.
•The ball wings overlap each other, and the shoe cover is tight. (Cover rate over 99%)
•Easy to operate, pour the floating ball into the required container, and then a uniform cover layer can be formed automatically.